Be careful what you throw away after Christmas!
As a crime prevention reminder, a lot of media outlets are running stories like this one, about "broadcasting" to thieves that your home is a potential target for Burglary.
This story is from Channel 29 in Charlottesville, Virginia, but the information is applicable anywhere.
On behalf of the Officers of CSPD, we wish you a joyous and safe Holiday Season.
Be Careful About What You Throw Away After the Holidays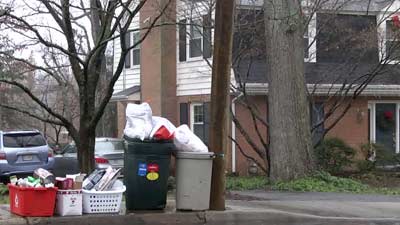 One man's trash is another's treasure, and that's especially true after the holidays. Thieves are on the lookout for piles of wrapping paper, electronics boxes, and other clues your home holds valuable holiday gifts.
Before you toss the box your big screen television came in to the curb, police say to be careful because you could be setting your home up as a target for thieves.
Electronics like TVs, stereos and computers come in large boxes that are easy to see, and they are an open invitation for thieves looking for a quick steal.
While large boxes may be difficult and annoying to break down, hiding the evidence of big items you got for Christmas could prevent burglars from targeting your house.
Lt. Ronnie Roberts with Charlottesville Police said, "In some cases, people canvass neighborhoods partially if they are looking for a particular item that may be out there in their shopping mode which house they want to target for a break in."
Police recommend breaking down larger boxes and storing smaller ones in your trash can or a black garbage bag. Recyclables can either be taken to a recycling center or stored in a larger box next to your recycling container.
The key is to keep potential intruders guessing by not putting out boxes that advertise their former contents. The less they know about what you got for Christmas, the longer you may be able to keep it.
Reported by Lindsey Lambert
Incident Date:
Monday, December 26, 2016 (All day)
Incident Type: